Thermal Transfer Ribbons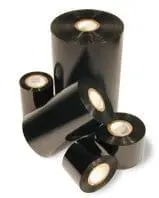 Wax Ribbons are available for all your general-purpose applications.
These ribbons offer Excellent Print Quality for normal and rotated barcodes and small characters.
Have the best durability of any general-purpose ribbons in regard to smudge and scratch resistance.
Very economical and can print at speeds up to 12 inches per second.
Wax / Resin Ribbons are designed for today's high-speed printers.
They provide exceptional levels of smudge and scratch resistance while printing at speeds up to 12 inches per second.
Great print quality for complex label formats, normal, rotated barcodes, logos, graphics, and are also ideal for two-dimensional codes.
Resin Ribbons are the superiors to all premium ribbons.
Designed for maximum durability in the demanding environments of industrial applications.
Has a high level of resistance to chemicals that might be exposed while in a harsh work environment.
Resistance up to 300 degrees Celsius when printed on polyimide film.
Outstanding for normal, rotated barcodes, and are able to withstand the effects of steam presses.
They are UL recognized on a variety of label stocks.