Warehouse Control Cones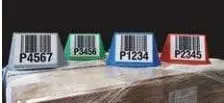 Control Cones are ideal for areas where it is difficult to hang or view signage

Pacific Barcode's Control Cones can be used in a variety of ways.
1. Retro-Reflective Barcode Labels for long-range scanning in lieu of hanging signs
2. Add Days of Week, Letters, Numbers and/or barcodes for easy identification of special shipping instruction, process control, inspection quarantine, testing, non-conforming products, etc.
3. Easily identify pallets or warehouse areas.
Control Cones are available in Grey, Green, Blue, and Red.
Retro-Reflective Labels and Decals are available in a variety of colors. These Control Cones provide complete 360-degree visibility.