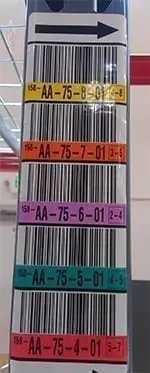 Totem, Stacked, or tree-labels help to create a confusion-free environment and eliminate the need for long-range scanning by referring the picker to the correct level of the pallet rack without the use of a long-range scanner.
These labels allow for the use of vertical posts throughout a warehouse. These stacked labels or signs can be helpful directional signs with or without barcode symbologies.
Each level is typically color-coded to the shelf/rack locations making for seamless integration
We offer durable synthetic labels that are scuff and abrasion-free with high levels of performance.