Preprinted Barcode Labels 
Need UPC, GTIN or Preprinted Labels?
Choose from a variety of different sizes to accommodate most of your label requirements.
Order On-Line  – Pacific Barcode is your fast and reliable source for UPC Barcode Labels.

Let the Experts Print Your Labels
Benefits to having Pacific Barcode preprint your labels:
Low Overall Cost
Quick Turn-Around
Eliminate any Learning Curve
No Equipment Investment
Focus on more important areas of your business.
For a quick price quote, enter your details in the form to the right.
Finished Fanfold Labels
This is the perfect solution for your variable data needs where you need easy access to the fan-folded stack of labels. If you need a variety of versions that will be used as address or shipping labels, general purpose labels or barcode labels, this may be the best solution. In addition, these are easy to store and ship as they lay flat in the box allowing for more labels in a single box which may save money on shipping to you.
When you order finished fanfold labels, there are a variety of formats to choose from.
Finished on Rolls
Preprinted labels on rolls are perfect for ease of storage and when labels are either being applied using a dispenser or applicator.
There are many applications for preprinted labels on rolls including LPN labels for warehousing and logistics, product and barcode labels.
Jewelry Labels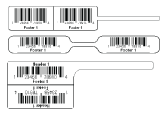 The best way to display your jewelry prices. These are perfect for rings, watches, necklaces, and bracelets. They are available in multiple styles including Bar Bell, Horizontal and Vertical Rat Tail Labels.
Preprinted Apparel Tags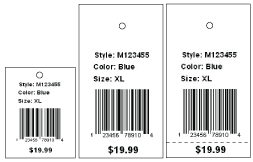 Preprinted Apparel Tags can be used for all types of soft goods such as hats, caps, clothing, and towels.
These are available in a variety of sizes and configurations and can have a perforation above the pricing portion of the tag which makes this ideal for gift-giving.
Full-Color Labels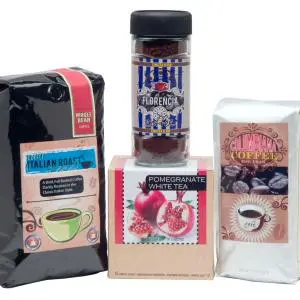 Pacific Barcode has a complete suite of solutions for your full color preprinted labels. These labels are fast, affordable and require no capital investment of equipment in your facility. Available in a variety of stock sizes and custom converted shapes, Pacific Barcode can work with you every step of the way.