Vape Labels Made Easy!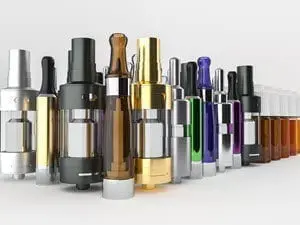 Pacific Barcode Label Printing Solutions can work with you every step of the way to provide preprinted labels or supply you with the blank labels and equipment to do it in-house.
The e-Liquid/e-Cigarette market is a highly competitive market where differentiating yourself in the marketplace is critically important.
In addition to having high-quality e-Liquids, it's good business to have visually exciting and compelling product labels.
According to Vape Magazine, there are between 6 and 7 thousand exclusive vape shops in the US. If you combine this with the other types of stores selling e-cigarettes and eLiquid, there are upward of 35,000 stores in the US all competing for the same dollars in that category.
With the hundreds of different flavors of e-Liquids (or juice), the varying levels of nicotine, and the multiple bottle sizes, this can add up to thousands and thousands of different label requirements.
Pacific Barcode Label Printing Solutions can work with you every step of the way. Whether you want to have Pacific Barcode print your labels or bring Label Printing in-house giving you a highly effective way of printing labels on-demand, Pacific Barcode has a solution.
If you would like Pacific Barcode to print your labels for you, give us a call, fill out the handy quote request form to the right or click on the button at the bottom right of the screen to chat or leave us a message.
By bringing your label printing in-house, you can print these labels in a variety of sizes in run lengths as low as one or in the thousands. Fast… and when you need them.
Pacific Barcode's Pigment-Based Inkjet solutions will give you a very inexpensive label solution that will not discolor, fade, or deteriorate if the contents of the bottle get on the label.
This keeps your branding intact and in front of your customers for the life of the e-liquid vial. This branding is so very important since you want to make sure that you are the first choice for additional sales instead of one of the other 35,000 resellers.
In addition to selling Color Label Printers, Pacific Barcode has leasing options too. Here are some examples of what is available…and all of these can be customized to meet your needs and your budget.