There are several important components when having preprinted or blank labels manufactured and printed ranging from cost, longevity, and sustainability to performance and design.
Pacific Barcode, your label experts, can help you with all of this with a free consultation with one of our customer service or sales representatives.
PRESSURE SENSITIVE LABELS
Pressure Sensitive Labels are on everything around us, and although they seem very simple, there are a variety of very important aspects to the label.

Labels are layered materials.
Liner
Release Coat
Adhesive
Face Stock
Top Coat

Starting from the Bottom:
1. LINER
The liner is the backing paper that houses all of the labels.  This is slightly wider than the width of the label.
2. RELEASE COAT
The release coat is a specially formulated coating that helps to keep labels from sticking to the liner.
3.  LABEL ADHESIVES
Pressure Sensitive Adhesives (PSAs) are adhesives that will bond to another surface with little or no pressure or energy. Firm pressure is all that is needed to create a bind between the PSA and the surface of the material that will house the label. This makes these a perfect solution for labels.
Adhesive types
Repositionable: This is a type of adhesive that adheres immediately, however, if the label is not applied correctly, the label can be removed cleanly from the container and another one can be applied in its place.
Removable: Adhesive that can be easily removed without damage to the label or the substrate.
Permanent: Hard to remove adhesive and will cause destruction of the label if removal is attempted.
4. FACE STOCK (MATERIAL)
Knowing the application will give us enough information to propose the type of label material.
Paper Labels
Most applications may be printed on Paper Labels, these are the most common and are used for a variety of applications. These are perfect for clean and dry environments.
Polypropylene Labels
These are great for indoor use when you need something stronger than paper labels. Typically 3-mil thick, this plastic film has a very aggressive adhesive backing and are temperature resistant to 175 degrees F. This is a permanent indoor labeling solution.
Synthetic Materials
For more demanding applications including GHS labels, nursery applications, sewn-in tags, etc. These labels offer high resistance to chemicals and UV exposure.
Destructive Vinyl
The purpose of this material is to make removable impossible. Used for security labels, the attempt of removing this label will destroy this label. The fragile nature of the face stock and the ultra-strong adhesive, removing these labels will cause the label to break into very small pieces.
Metalized Polyester
This is a 2-mil matte silver label offering heat and chemical resistance.
5. TOPCOAT
The topcoat is a coating or lamination that is applied to the face stock to provide protection from abrasions, moisture, wear and tear, etc.
SIZE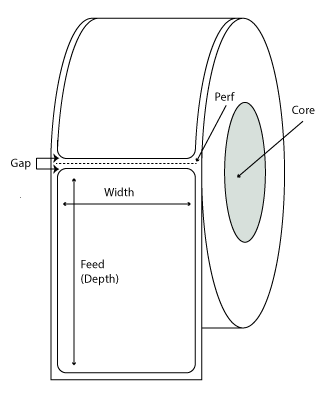 Depending on the size of the label, we can either print these as a one or multiple-up label. This information helps us to provide you with an economical solution.
Labels are typically provided in rolls (pictured) or fan-folded. What you will do with the labels after they are printed will help us to understand the best way to supply these to you. If you have larger volumes of labels or are using an applicator or dispenser, you will want to have your labels on rolls.
If you have a lot of different labels in very small quantities, you may prefer to have these fan-folded. Fan-folded labels give you greater access to all of the labels.
WHO'S PRINTING THE LABELS?
As a complete solutions provider, Pacific Barcode can either provide blank labels or can print your labels for you. If we are printing the labels for you, we will use the right technology for the job. Our printing solutions include label converting, flexo printing, thermal, and color digital printing using either standard color dye or pigment-based printing techniques.
If you are printing the labels, we can provide you with the optimum label and adhesive stocks based on your in-house equipment.
LABEL COPY POSITION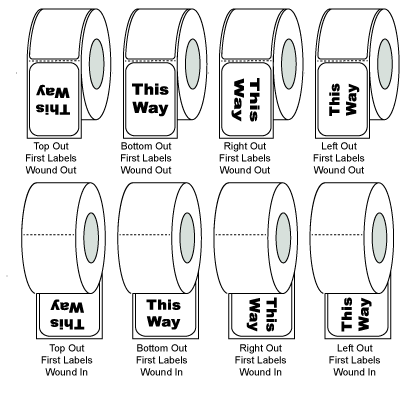 APPLICATION
Knowing what you will be using the labels for will give us the ability to understand your needs. Are these going on a warehouse rack or shelf? Are these for retail products? Are these going on bags, boxes, bottles? Are these going on medical devices, are they GHS labels, product labels, etc… knowing your application will get us thinking about solutions that we can propose to you.