What is the GHS?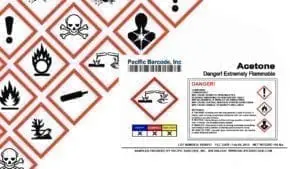 The GHS is an acronym for The Globally Harmonized System of Classification and Labeling of Chemicals. The GHS is a system for standardizing and harmonizing the classification and labeling of chemicals. It is a logical and comprehensive approach to:
Defining health, physical and environmental hazards of chemicals;
Creating classification processes that use available data on chemicals for comparison with the defined hazard criteria; and
Communicating hazard information, as well as protective measures, on labels and Safety Data Sheets (SDS).
The purpose of GHS is to provide chemical handlers with 'at a glance' very important safety hazard information.
GHS requires GHS compliant labels by June 1, 2015
Every hazard type requires a unique color pictogram and the number of pictograms will often vary from label to label. The total number of pictograms must match the number of hazards.
GHS Hazard labels must be durable and resistant to chemicals and abrasions. BS5609 is the most common benchmarks for certifying and use pigment-based inks for the printing of the information on the label. Pigment Based Inks provide outstanding stability and resistance to many chemicals including MEK, alcohol, acetone, oil, water, fading and smudging.