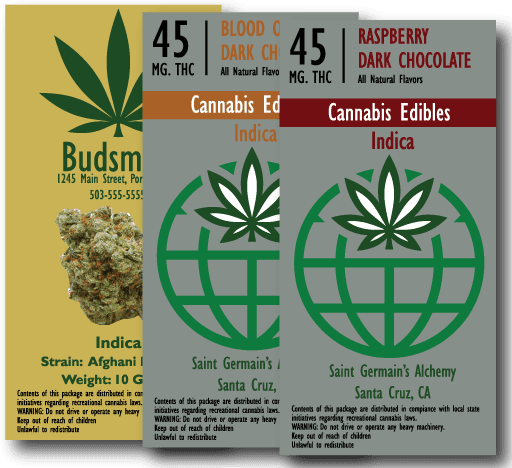 With the legalization of cannabis throughout many of the states in the U.S., competition grows. As with any other consumer product, a great label with stunning color imagery captures the attention of the buyer.
In addition to the legal requirements of cannabis labeling, your packaging has to look professional and stand out from the other recreational and medical dispensaries.
The variables in addition to the labeling basics of Identity and responsibility, make it very expensive to have pre-printed pouches for every strain and weight of buds in the dispensary. The cost-effective method is to print your labels, in full color, using variable data work-flow. Simply stated…it's a lot cheaper, easier, and faster to print everything required on one label than having to deal with printing multiple labels or overprinting pre-printed labels.
Printing color labels on demand allows you to create one label with all of your product and branding information including
THC %
CBD %
Net weight in grams
Lab name and test # confirmation
Date tested
Strain name
Pacific Barcode Label Printing Solutions can help you with all of your label requirements for buds, edibles, topicals, vapes, stock pouches, vials and more.
Not ready to print your labels in-house? Pacific Barcode can print all of your labels for you. Contact us today.